RECENTLY INTERVIEWED FOR APPAREL MAGAZINE, OUR FOUNDER AND DESIGNER, AMBER SHARES INSIGHT INTO HER INTENTION BEHIND OUR LATEST COLLECTION.
On the inspiration for the latest collection
I drew inspiration for this new collection from the essence of what Shjark is all about. Clean lines, classic yet undeniably modern, lust worthy yet timeless. I wanted to deliver a Summer collection that exudes positivity and uplifts the spirits. Symbolising the brand's commitment to remaining relevant and forward-thinking while cherishing the timeless elegance that has defined our signature style.


In essence, it is a manifestation of our dedication to creating pieces that not only make the right statement for the season but also become forever staples in our customers' wardrobes.
 On bringing a collection together
Shjark collections are centred around a complete modular wardrobe, thoughtfully curated to meet the needs and desires of the Shjark woman; her needs and wants are always the starting and ending points in my design process.


Summer 23-24 pays reverence to our founding ethos of prioritising form and function, offering versatile must-haves that seamlessly transition through warm-weather festivities. The key theme is adaptability, empowering her to express her unique identity confidently and effortlessly; everyday.
On materiality this season
Summer is always a more relaxed offering from me than winter; a reflection of our lifestyle in New Zealand. The fabrications chosen are premium yet practical to take her from beach to BBQ with ease. Deliciously drapey linens and textured cottons make for breathable, durable everyday go-tos, while our fluid and flowing tencels have been artfully cut into beautiful occasion-wear.
On an evolutionary process
This collection maintains a consistent aesthetic that aligns with my previous work. Rather than making big leaps, I prefer to approach each new collection as an evolution of ideas, introducing subtle yet impactful elements that breathe fresh life into the overall offering. The focus is on maintaining a sense of continuity and coherence throughout the different collections, allowing the Shjark woman to build a wardrobe that effortlessly complements and expands upon her existing pieces.
On favourites from SS23 
In this collection, two standout pieces hold special significance for me. Firstly, our signature print this season brings a fresh and exciting addition to the range. While prints aren't typically prominent in my designs, this one strikes the perfect balance, boasting beautiful colours that seamlessly complement the collection. The fabric, milled and printed in France for us, possesses a delightful drapey quality, making it a joy to wear during the warmer months.


Secondly, anyone who knows the brand, knows coats are my thing. The trench in this collection stands out as a forever piece. It embodies all the elements of a timeless classic - a grab-and-go showerproof essential with a fashion silhouette. Despite its impressive presence, the trench remains light and travel-friendly, making it effortless to carry along wherever you go.
Designed in-house by Amber herself, Shjark's latest collection is available to discover now.


With thanks to Apparel Magazine and Caitlan Mitchell for this interview.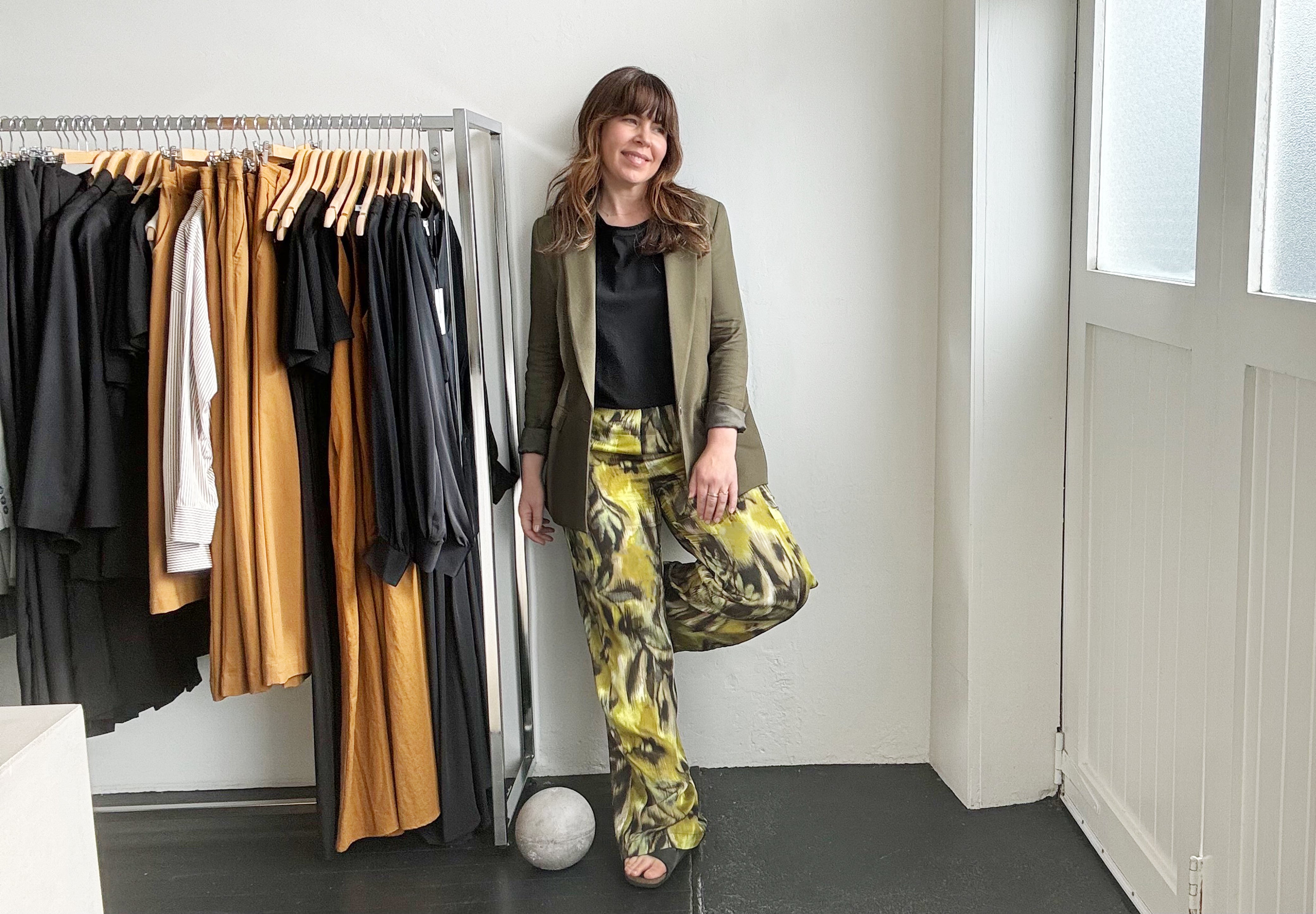 IN CONVERSATION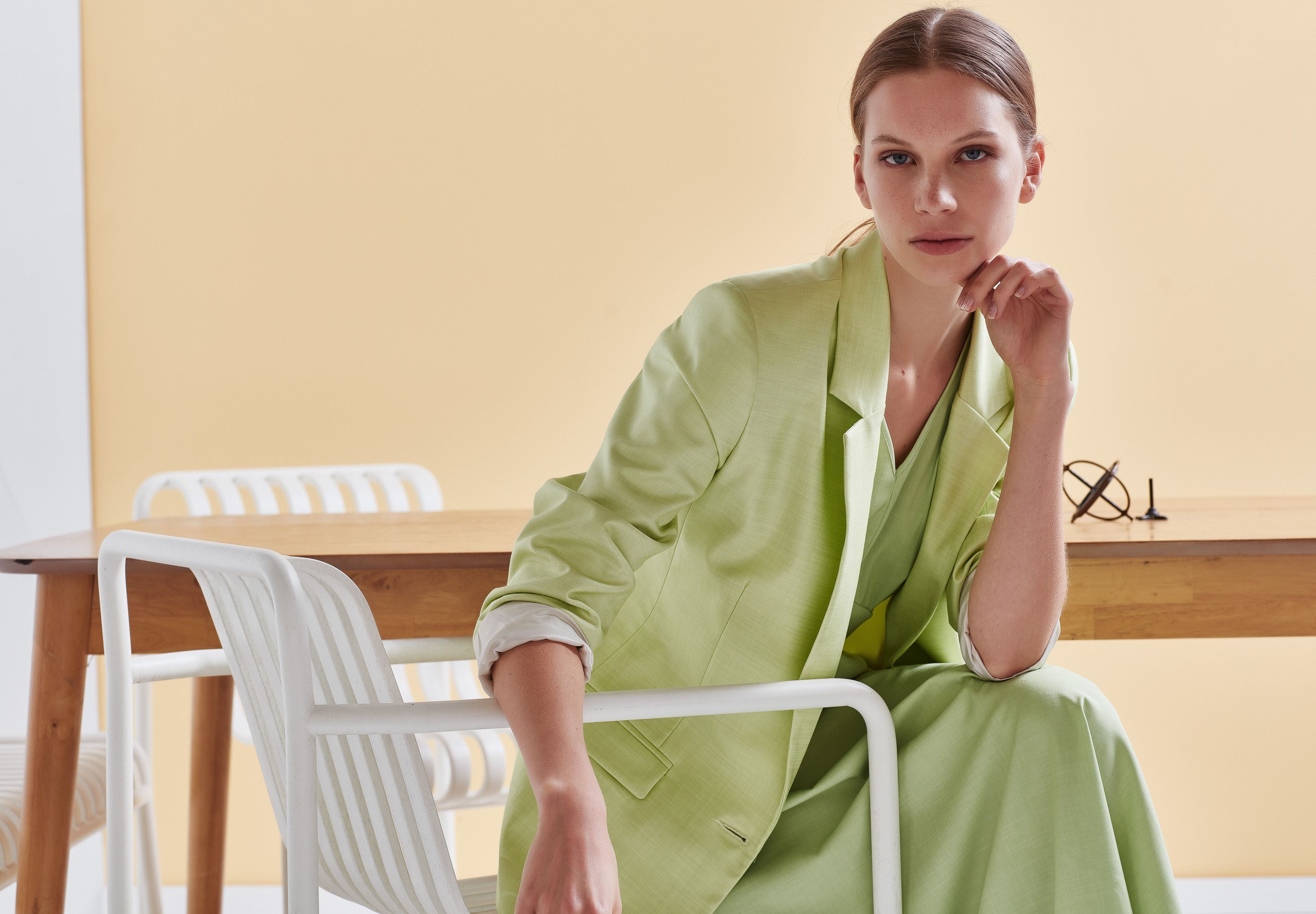 STYLE GUIDE